Long ago in a land far, far away there lived a jolly old fellow named Santa Claus. When he was just a young chap, he met a lovely lady and they fell in love. They were very happy together and soon there were little elves running around everywhere.
One day, Santa and Mrs. Claus found the perfect place to raise their family. They called it the North Pole. The happy couple wanted a place to make toys, sing songs and make children happy.
They raised reindeer and Santa built a sleigh so he could carry all of the toys and presents to all the little boys and girls on that one special night of the year. Mrs. Claus began to bake cookies and pies. While, cooking, she and the elves would sing songs. They sang songs like "Frosty the Snowman," "Jingle Bells" and "Santa Claus is Coming to Town," just to name a few. They even found a way to make the lights at the North Pole dance with the music. They were having a wonderful time.
Then one foggy Christmas Eve, Santa sat down with Mrs. Claus and Rudolph the red nosed reindeer and decided to build a home on Terwilligers Knoll in Cincinnati, Ohio. You see, they wanted a place where children and their families could come to share the spirit of Christmas and enjoy the magic of the lights that was closer than the North Pole.
Soon thousands of little boys and girls came from all around to celebrate the birth of the baby Jesus and enjoy the lights and the music. There were even huge Santas, trains and spinning elves. Visions of sugarplums danced in their heads, and mom and dad knew that this was a special place. HGTV came to visit and soon the entire country knew about the home in Terwilligers Knoll they called the Christmas Ranch.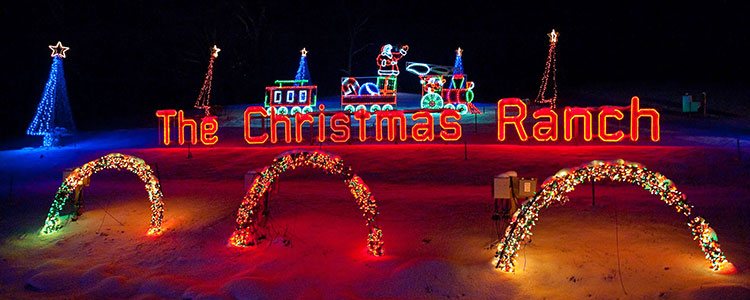 Well, Santa and Mrs. Claus were so overwhelmed by the happiness they saw in the faces of the children that they decided to build an even bigger and better Christmas Ranch to bring even more holiday cheer. They met with Rudolph again and even asked Herbie to be there for this meeting that was to change the course of history. You see, Santa had become a dentist many years ago and wanted Herbie to share his excitement about bringing bright smiles to the children. So late one night they all gathered around. They had a big bonfire with toys, cookies and candy canes. They roasted marshmallows and sang Christmas carols. It was delightful. Santa was full of glee as he began to dance around. His eyes began to twinkle. His bells were jingling, too. His belly began to shake like a bowl full of jelly and he exclaimed "Ho, Ho, Ho! Pack your bags gang! We are moving to The Christmas Ranch."
And so, it came to be that Santa, Mrs. Claus, the elves and all the Reindeer have found the perfect place to celebrate the birth of the baby Jesus and bring smiles to all the boys and girls. They have found a way to make the lights and the music dance together. As Santa would say "The lights are magical and the music is grand. The Christmas Ranch in Morrow, Ohio, is the best in the land." Call us at 513-444-9362 or visit our homepage for reservations today for more information!